Back to Blog
TieTalent's Ultimate Guide on How to Get a Job in Marketing in 2023
Looking for a Job in Marketing?
Regardless of whether you're just coming out of uni or been at it for a while, oftentimes we need a little nudge (and some inspiration) to get moving on a career change.
Marketing is one of those great careers that many people would love to pursue. It challenges your creativity, analytical thinking, and you often work in a fun, dynamic work environment.
There are many different  types of marketing jobs that you can choose to apply for. Deciding which one is right for you will depend on your personality, experience, and capabilities.
If you're looking for expert tips on how to get a job in marketing, we're confident that this guide will help you land your dream career.
What Qualifications Do You Need to Work in Marketing?
Marketing jobs can vary widely in terms of the specific skills and qualifications required.
From our experience, employers generally look for the following qualities in candidates for marketing positions:
1. Education
It certainly helps if you have a degree in marketing, but this isn't always the norm.
While it is true that many marketing jobs require a Bachelor or Master's degree or a related field such as business, communications, or advertising, if you don't have one, don't be discouraged.
There are so many other ways in which you can gain experience and skills that can compensate for your lack of an official college marketing degree.
2. Experience
Many marketing jobs require some level of experience, whether through internships or previous work in marketing or a related field.
3. Skills
Marketing often requires strong communication and interpersonal skills, as well as the ability to analyze and interpret data.
Other important skills for marketing professionals include creativity, problem-solving, and the ability to work well in a team.
4. Specialized knowledge
Some marketing jobs may require knowledge of specific software or technologies, such as graphic design software, social media platforms, or marketing analytics tools.
5. Certifications
Marketing professionals may choose to earn certifications in specific areas of marketing, such as digital marketing or content marketing.
These certifications can help to demonstrate expertise and may help you stand out from others during the job search.
You can easily prove your marketing skills with certifications online using sites such as Skillshare, Udemy, or even Google garage.
9 Steps to Successfully Land a Job in Marketing
Now that you know the qualifications needed to get a job in marketing, let's go over 9 helpful tips to seal the deal.
There are several steps you can take to increase your chances of getting a marketing job, such as:
1. Build your knowledge and skills
Marketing is a diverse field, and there are many different skills you will need to succeed.
We've already touched upon this in the previous paragraphs.
Consider taking courses or earning a degree in marketing, or consider completing a certification program.
Marketing books are another great way for you to gain some expert wisdom in the field.
This will help you gain the knowledge and skills you need to excel in an ever-increasingly competitive job market.
2. Develop your portfolio
Marketing is a field where you will need to demonstrate your skills and abilities.
Consider creating a portfolio of your work, which can include marketing campaigns, social media posts, and other marketing materials you have created.
Should you have worked in another marketing role, this is a great opportunity for you to share the KPIs from your previous role and any positive impact you had on the business as a whole.
This will give potential employers a sense of your skills and capabilities.
3. Network and build connections
Marketing is a field where networking is key.
Consider joining professional organizations, attending industry events, and reaching out to professionals in the field to build your network.
LinkedIn is a fantastic place for you to build connections with not only companies looking to hire for marketing roles, but other like-minded individuals who also want to work in marketing.
This can further help you learn about job openings and get your foot in the door for interviews.
After all, you never know who might end up referring you to an amazing marketing job.
4. Tailor your resume and cover letter
When applying for marketing jobs, be sure to tailor your resume and cover letter to the specific job you are applying for.
Highlight the skills and experiences that are most relevant to the job, and be sure to use language and keywords that are commonly used in the marketing industry.
This will not only help your CV stand out in AI CV screenings, but quickly demonstrate your knowledge in the marketing field.
5. Practice for interviews
As the saying goes, practice makes perfect.
Marketing jobs often require candidates to present their ideas and proposals, so be prepared to present your ideas in a clear and concise manner during the interview process.
Consider practicing with a friend or family member to help you feel more confident and prepared.
We offer many ways for you to prepare for interviews in our blog, so be sure to check them out.
6. Use online job boards and career resources
There are many online job boards and career resources that can help you find marketing jobs, including LinkedIn, Indeed, and Glassdoor.
These platforms often have a range of marketing jobs listed, from entry-level positions to executive roles.
You can also look for smaller jobs via platforms such as Fiverr and Upwork. These sites are great if you're also looking to build up your skills before applying for a permanent marketing position.
Finally, there exist "reverse recruitment" marketplaces like TieTalent where companies apply to talents (rather than the traditional model where candidates apply to specific positions). Here, candidates sign up (for free) and complete their profiles by specifying their personal and professional aspirations. Then, they "match" with companies who are looking to hire someone like them.
7. Consider internships and entry-level positions
Sometimes we need to go back and start from scratch.
If you're just starting out, or if you're completely changing your career path, consider internships or entry-level positions as a way to gain experience and build your skills.
These types of positions can often lead to full-time jobs or serve as stepping stones to more advanced roles.
8. Be proactive
It would be wonderful if employers would reach out to you when you're looking for a new job.
But unfortn¡unately, unless you're a renowned subject matter expert, head hunters are likely not going to reach out to you.
Don't wait for a job to come to you – take the initiative and reach out to potential employers.
Research companies in your area and send them your resume, even if they aren't currently hiring. You never know when an opportunity might arise.
9. Start a side project to gain experience
Starting a side project can be a great way to gain experience and build your skills in marketing.
Here are some steps you can take to get started:
1. Identify your goals: It's important to have a clear idea of what you want to achieve.
Are you looking to gain experience in a specific area of marketing, such as social media or email marketing?
Do you want to build a portfolio of work to show to potential employers?
Having specific goals in mind will help you focus your efforts and ensure that your project is meaningful and relevant.
2. Choose a project: Once you have identified your goals, it's time to decide on a project.
Consider your interests and skills, and try to find a project that aligns with both.
You could start a blog or create a social media presence for a local business, for example.
3. Plan and execute: Once you have chosen a project, it's time to plan and execute.
Break your project down into smaller, manageable tasks and set deadlines for each. This will help you stay on track and make progress.
As you work on your project, be sure to document processes as well as specific milestones or achievements.
4. Share your work: Once your project is complete, it's important to share it with others!
This could mean posting it on social media, sharing it with friends and family, or submitting it to relevant online communities or forums.
Sharing your work will help you get feedback and build your professional network.
What Skills Make up a Great Marketer?
Marketing professionals are responsible for promoting products, services, or brands to potential customers, so it's important for them to have certain personality traits that help them succeed in this role.
Here are some personality traits that can be helpful for marketers:
1. Creativity: Marketing professionals need to be able to come up with new and innovative ideas for promoting products and reaching potential customers.
2. Persuasion: Marketing professionals need to be able to effectively convince potential customers to buy a product or service.
3. Communication skills: Marketing professionals need to be able to communicate effectively, both in writing and orally, in order to present ideas and information to customers, clients, and team members.
4. Adaptability: Marketing professionals need to be able to adapt to changing market conditions and adjust their marketing strategy accordingly.
5. Organizational skills: Marketing professionals need to be able to manage multiple projects and tasks effectively and efficiently.
6. Analytical skills: Marketing professionals need to be able to analyze data and interpret it to inform their overall marketing strategy and decision making.
7. Curiosity: Marketing professionals need to be curious and constantly seek out new ideas and ways to improve their marketing efforts.
---
Are you looking to work in marketing? TieTalent can help you land your next marketing job. Sign up now (it's 100% free for talents) and find your next job in a matter of weeks!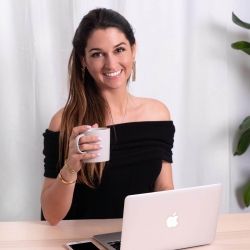 Ana Palombini
Conversion Content Writer at AP Copywriting
Ana Palombini is the voice behind AP Copywriting, where she provides content marketing for SaaS, entrepreneurs, and marketing agencies. When she is not typing 'till her fingers are numb, you'll find Ana watching Friends for the millionth time or having late-night sushi from her couch (or both). Say hi on LinkedIn or check out her website.
Back to Blog