Back to Blog
Voice Search: A Digital Marketer's Guide to Mastering This Growing Trend
The way that consumers seek information online is evolving, and this will have an impact on digital marketing as we know it.
So if you want to keep up with the ever-changing voice search trend, the time has come for you to shake up your websites and SEO knowledge.
But where do you even start? That's what we're about to find out in this article.
What Is Voice Search in Marketing?
First things first, let's define what voice search is and how it makes people's lives easier.
Voice search is a new digital marketing trend that is here to stay. It reduces a step in the search process, allowing users to use their voices instead of typing to get quick answers to their questions (or simply learn more about a certain subject).
The voice search function makes use of advanced technology such as AI (artificial intelligence) to convert voice signals into text using automatic speech recognition (ASR).
This means that smartphone users can now conduct online searches by simply utilizing their voices, making the search as easy as a press of a button. The voice search technology then converts the spoken words into text. After, the search engine uses the text as though it were a typical search query and returns pertinent search results.
The general public really started using voice search seriously with Google Voice Assistant, but now it can seemingly be found anywhere, from smart TVs to home devices like Alexa.
Benefits of Voice Search
Are humans getting so lazy that we can't even type our queries anymore? Well, there's more to voice search than initially meets the eye.
Recent research showed that individuals favor voice-activated searches because they can more easily multitask.
Still not convinced? Here are 3 more voice search benefits to look forward to:
It allows you to perform tasks more efficiently.
It gives you the ability to find information and answers right away.
It facilitates your daily activities.
How Does Voice Search Affect Marketing?
So now that you understand how voice search can help make your daily operations easier and faster, let's go over how voice search will affect digital marketing in the foreseeable future.
Voice search is a growing trend. This means that it will redefine your SEO approach. Also, voice search affects not only how consumers conduct searches online, but also how they discover things and engage with brands.
If we focused on using 1-3 targeted keywords in the past, now the use of longer, more specific keyword searches that target broad themes will be preferred by SEO. But, above anything else, targeted phrases are best.
This means SEO will be more focused on longer phrases that sound more like when a person is asking for specific information.
Is Voice Search the Future of Marketing?
According to Oberlo statistics, 51% of all online shoppers in the US are already using voice assistants to help them research products. A further 71% of consumers prefer voice-placed queries to typed ones.
The study goes on to say that more than one-quarter of the entire global online population is using the voice search feature on their mobile devices.
So yes, it's a safe bet that voice search will remain relevant and impact marketing as we know it.
How Does Voice Search Impact SEO?
As briefly mentioned a few sections back, we can't speak of digital marketing KPIs and trends without talking about SEO optimization. This, of course, also applies to voice search.
The goal of voice search optimization is to make your page as informative as possible for users who are using their voices instead of typing in queries to search for information online.
When speaking SEO, voice search is a significant trend. At its core, it is a progression of how SEO and search engine algorithms have developed over the past 20 years.
As you know, Google seeks to provide its users with the quickest and most natural search results available online. So to stay on Google's good side and boost the visibility of your brand in voice search results,  you must optimize your content to be ''voice-friendly''.
What Does This Mean for You?
Voice search presents opportunities for brands, but it also carries challenges and risks. If you don't do it right, you risk falling behind.
Just as with every new algorithm update and digital marketing trend, there is a learning curve before you can fully master the changes.
Currently, most businesses that optimize for voice search do so as an extension of their digital strategy. Rather than making voice search a key part of their digital strategy, they tweak their existing material to make it more voice search-friendly and relevant.
A voice search strategy, however, goes beyond merely attempting to stay relevant in a constantly changing digital world. Instead, it should focus on finding opportunities to use voice search to develop digital experiences that boost customer loyalty and increase brand awareness.
In addition, voice search optimization offers you a golden opportunity to learn more about the motivations and intentions behind a user's search query—information that is essential for understanding your target audience.
Location is a crucial component in voice search SEO, with 76% of smart speaker owners using voice search for a location at least once each week, according to Bright Local research.
Customers are utilizing their voice assistants to learn store locations, hours of operation, and what products are available.
What does this mean to you? Simply put, it's more important than ever that you ensure that your material is optimized for both general query searches and local search results.
How to Optimize Your Content for Voice Search (i.e., Voice Search Optimization)
Compile a list of questions to make sure you cover each of these. But stay away from filler and, as always, concentrate on giving the best information you can.
When conducting voice searches, consumers use more words and more questions than when typing a query into a search box.
Expanding your keywords to include more precise and complicated questions is crucial if you want to use voice search to boost organic traffic from search results.
Let's go over the 4 best ways that you can optimize your content for voice search.
1. Targeting specific keywords for voice search SEO
As we've already covered in this article, people type in an entirely different manner than they speak.
This means that, instead of, for example, targeting "hair salons Paris", voice search SEO will be more specific than ever before: "What are the best hair salons in Paris near me?"
(A small step for humanity. A big step for marketers).
So, to optimize for voice search, you must determine your consumers' questions about what you sell and determine those focus keywords.
For that, you can find the queries that people are asking that are pertinent to your keyword strategy by using digital marketing tools like Answer the Public.
2. Map out all the possible questions to the buyer journey
Adding on, you want to be present every time your consumer uses voice search to find solutions to their questions.
So, to further enhance your brand's exposure with voice search, you must offer content that answers customer inquiries at each stage of the buyer journey.
Let's compare voice search requests to the process of purchasing a VR headset:
Below is a potential buyer's journey for a coffee machine:
Awareness stage: "Coffee machines that make the best coffee"
Engagement stage: "Can you use any type of ground coffee in a coffee machine?"
Evaluation stage: "What's the difference between a ground coffee maker and a filter?"
Purchase stage: "Where can I buy a Melitta Caffeo CI bean-to-cup coffee machine near me?"
Post Purchase stage: "Is it normal that my ground coffee machine makes a loud noise?"
3. Optimize mobile for voice search
You will also benefit from voice search if you take the necessary steps to optimize experiences on mobile.
For instance, page speed is regarded as a key component in mobile optimization. When conducting mobile searches, users expect rapid results, and search engines reward sites that take less time to load.
This is to say, just like with regular SEO, page speed also plays a significant role in voice search rankings. Backlinko conducted a study that examined Google voice search results. They found that the average voice search result page loads in 4.6 seconds (52% faster than the average page).
To create a mobile-friendly experience, ensure you're adhering to the following basics:
Build pages that are mobile-responsive.
Create content to be more readable on smartphones (this means shorter blocks of text and subheadings that make the content more digestible).
Keep your site's design simple and intuitive.
Include images that are optimized for mobile.
Aim to reduce your page speed load time.
Test your content to ensure it can be properly viewed on different devices (i.e., Apple and Android devices).
4. Be everywhere consumers are looking
Customers must be able to find your information anywhere they go, especially on popular websites and apps like Google Search, Google Maps, and Apple Maps.
A voice search query is likely to have local intent, and your local company listing could be the first place they find you.
You should also make sure that your Google Business Profile is entirely factual and has only the most recent information, as this is a typical area for potential clients to find your company.
Ensuring the below information is accurate is a great way to start:
Business name
Business description
Address
Phone number (contact)
Opening and closing hours
Reviews (and review responses from business owners)
A link to your local landing pages or to book a service
Ready for Voice Search Optimization?
Voice search is one of the technological innovations that businesses must deal with in the digital age. The gradual rise in popularity of voice search in the digital marketing scene simply can't be overlooked.
Natural language processing is redefining how consumers interact with brands and make transactions, from new voice-activated goods to voice search-optimized content marketing. Brands must put themselves in their customers' shoes and figure out how they can take advantage of voice search potential if they want to keep up with the rate at which consumer behavior is changing.
The businesses that respond the quickest will be the ones who see major success in the upcoming years. If your company isn't investing in voice search optimization, you could be hurting your revenue's true potential.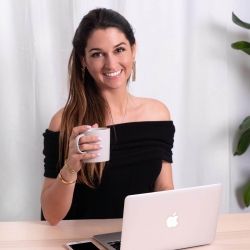 Ana Palombini
Conversion Content Writer at AP Copywriting
Ana Palombini is the voice behind AP Copywriting, where she provides content marketing for SaaS, entrepreneurs, and marketing agencies. When she is not typing 'till her fingers are numb, you'll find Ana watching Friends for the millionth time or having late-night sushi from her couch (or both). Say hi on LinkedIn or check out her website.
Back to Blog