Back to Blog
Is Digital Marketing a Good Career in 2022? Learn What to Expect as a Digital Marketer
With so many ongoing work-life changes around the world (from the Great Resignation and the start of the home office possibility to a larger concern towards diversity and inclusion in the workplace), one question remains: is digital marketing a good career in 2022? The short answer is, YES, it absolutely is!
Digital marketing is one of the fastest growing fields in business (and it's constantly evolving), with a huge range of job opportunities throughout the industry.
But how can you know if a digital marketing career is right for YOU? And what exactly will your job as a digital marketer look like? Great questions!
If you're currently wondering what to expect from a digital marketing career, this post is perfect for you.
In this article, you'll learn:
What to expect from a career in digital marketing
What is the scope of a digital marketing career
What are the skills needed for a successful digital marketing career
What are the benefits of working in digital marketing in 2022
What You Need to Know About Pursuing a Career in Digital Marketing
With digital marketing expected to grow at a rapid rate over the coming years, it makes sense that more people will be interested in pursuing careers in the industry. This means it's time to step up your game by learning high-demand digital marketing skills if you want to land your dream job in marketing.
These digital marketing skills could be:
Data analysis (SEO & SEM)
Graphic design (and basic design skills)
Writing (copywriting)
CRM knowledge
Communication ease
Social media management
What Can You Expect From a Career in Digital Marketing?
Digital marketing is a fast-growing industry with a high demand for skilled workers. According to the Bureau of Labor Statistics (BLS), the employment of marketing managers is projected to grow 7% by 2024 and reach over 690,000 jobs.
Whoa!
With such astounding growth, it's no surprise that so many people want to start a career in digital marketing.
What's more, careers in digital marketing can be both exciting and rewarding. You'll work in a dynamic environment, where creativity is not only welcome but encouraged. A far cry from otherwise mundane, repetitive jobs.
If you're thinking about leaping into this field, here are some detailed insights into what you can expect if you decide to pursue a career in digital marketing.
You'll work with different kinds of people from all over the world
Digital marketers interact with customers, clients, and other employees through email, phone calls, and other forms of communication. They also build relationships with influencers who can help spread the word about their products or services through blogs and social media platforms like Facebook or Twitter.
You'll enjoy working on different types of projects every day
Whether it's creating graphics for an ad campaign or designing a new website template, there's always something new happening in digital marketing that keeps things interesting every day at work.
You'll constantly learn new skills as technology changes rapidly
Being tied to technology, digital marketing is constantly evolving to keep up with updates and trends— digital marketers need to stay on top of their game so they can continue bringing valuable content to their audience. This means constantly learning new things, and feeding your brain with information on a regular basis.
What Is the Scope of a Digital Marketing Job?
It depends on what area you choose to work in. This could be a marketing strategist, social media manager, copywriter, etc.
This is to say, the scope of Digital Marketing jobs is vast and varied, as it involves all aspects of marketing. It includes SEO, PPCs, SMO, Content Marketing, Content Creation, etc. These professionals work with companies from different industries and help them to improve their sales, brand awareness, and customer experience.
But, as a general rule of thumb, digital marketers work with companies to develop strategies around how to use technology to reach their target audience. They might run paid advertising campaigns on social media, create email newsletters, and optimize landing pages for better conversions.
A digital marketer constantly works in an online environment using various tools like analytics software and CRM systems to support their clients' businesses. Part of the digital strategist's job, for example, is to develop marketing strategies for acquiring customers through various channels including social media, search engines, and email campaigns.
Another big part of digital marketing could be SEO (search engine optimization), which involves optimizing your website so it performs well in search results. They analyze data and statistics to see how their campaigns are performing and then adjust accordingly.
Some marketers also specialize in paid advertising like Facebook ads or Google AdWords campaigns. So if you like working with data and analytics, this could be an interesting path for you.
You can choose to work as a freelance digital marketer or you can also choose to work for an organization where you would be given more responsibilities, higher salary packages, and employee benefits.
What Are the Skills Needed for a Successful Digital Marketing Career?
Usually, a bachelor's degree in marketing or communications or a master's would be expected, but this is not a strict rule in 2022. With so much information readily available online for you to learn digital marketing at your own pace, demonstrating several years of experience in the field (with attractive results for others) is enough to get you an entry-level interview for a marketing career.
But if you're already working in the industry and want to advance your digital marketing career, it may be worth getting an advanced degree or specialized certification from an accredited institution.
Technical Understanding
While there are no specific academic requirements for most digital marketing roles, employers tend to look for candidates with some technical background who can master new software programs quickly on their own time while also having the ability to work collaboratively within teams.
Analytics
If you don't want to guess what type of content will perform well for a given marketing campaign, having the ability to analyze data and identify trends will be essential. This means more than just collecting data; it requires understanding how it works and knowing how to use it effectively to make better decisions.
Marketing automation
Marketing automation systems allow marketers to automate repetitive tasks such as email campaigns, social media posts, and landing page creation, freeing their time to work on more important things. This also allows marketers to create processes that automatically measure their success so they can make adjustments where necessary.
Creativity
In addition to having an eye for design, marketers need to be creative thinkers who can think outside the box. Creativity isn't just about art; it also involves being able to think of new ways to solve problems, which is a crucial skill in any field.
Multitasking
Digital marketers have a lot on their plate these days. From coming up with content calendars to performing keyword research analytics, social media managing, etc... The list goes on. being able to juggle a variety of tasks without feeling you're about to burn out at work is a big part of a digital marketer's job.
What Are the Benefits of Working in Digital Marketing in 2022?
Flexibility + Independence
Since the pandemic hit us, digital marketers are usually allowed to work from home or any location of their choice. As most of the tasks are performed online, there is no need for physical presence at an office or any other place of work. This helps them to maintain a healthy work-life balance and spend quality time with family members or friends during weekends or vacations.
Basically, you could potentially work from anywhere as long as you have a good internet connection.
High Demand for Skilled Employees
The digital marketing industry is growing rapidly, which means that there are plenty of jobs available (and even new jobs popping up every day (such as Virtual Reality Manager and Director of AI). And as long as companies have products or services to sell, they will need marketers to help them reach new and existing customers
Variety of Opportunities
Adding on, many different types of jobs are available across different industries. You can create your career path by finding companies that align with your interests and skillsets; then use those opportunities as stepping stones toward more exciting ones down the road!
High Salary Potential
Digital marketing salaries are on the rise. According to Payscale, the average salary for a digital marketer is $66,000 per year — but top earners can make more than $100,000 annually.
Ready to Pursue Digital Marketing as a Career?
Digital marketing is an advantageous career option, offering great employment opportunities and high salaries and incentives (bewith the potential to be very financially rewarding).
The industry has expanded into a wide spectrum in recent years and more and more businesses see the value that a marketer can bring to a company's overall sales success.
Digital Marketing will continue to be a huge component of companies marketing plans in 2022. Its adoption by more and more businesses, small and large, will make it more critical as a career choice than ever before.
If you're considering a career as a digital marketer, TieTalent will get you a job in digital marketing at zero cost to you. Sign up today.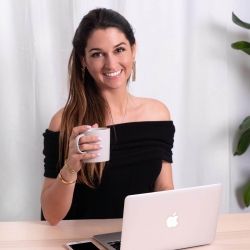 Ana Palombini
Conversion Content Writer at AP Copywriting
Ana Palombini is the voice behind AP Copywriting, where she provides content marketing for SaaS, entrepreneurs, and marketing agencies. When she is not typing 'till her fingers are numb, you'll find Ana watching Friends for the millionth time or having late-night sushi from her couch (or both). Say hi on LinkedIn or check out her website.
Back to Blog