Back to Blog
Here Are the Top 10 High-Demand Jobs in Tech for 2021
Software Engineer
No matter what type of tech job you're looking for, chances are you're familiar with this role. Software engineers use analytical thinking and problem-solving skills to build websites and applications. It is a detailed study of engineering for designing, developing, and maintaining software. Software engineering was introduced to address the issues of low-quality software projects.
Software engineering is one of the most versatile technology careers on this list. That's because nearly every industry in the world uses some kind of software. Think about it. You use the work of software engineers regularly. The apps on your phones were developed by software engineers. Your internet browser was designed by software engineers.
These engineers work across all industries, so you'll easily find opportunities in a variety of places such as retail, health care, government, hospitality… and so many other kinds of organizations.
Software Developer
By far the largest number of job openings in tech is in developing software. The growth in demand for this tech role is fueled by the ever-increasing need for mobile apps and other products necessary to run modern businesses that are driven by technology.
Unlike the previously mentioned role of software engineers – who apply the principles of engineering for designing, developing, maintaining, testing, and evaluating computer software – software developers build software programs, applications, networks, operating systems (OSes), and interfaces that run across various types of computers.
While a large portion of job duties involve building programs through coding, software developers are usually also involved in critical analysis of user needs, planning technical feature requirements, documentation, and testing.
Web Developer
Niching down a bit from the above jobs, we have web developers.
Ever thought about combining your passion for graphic design with tech skills? A job in website development might be a perfect fit for you.
Indeed the internet is here to stay, and the need for qualified web developers will continue to grow for the foreseeable future, and web developers continue to be in high demand. What's better, this tech role brings in attractive salary options and according to USA Today, web development has some of the highest job satisfaction ratings of any career.
Web developers design and create websites. They're responsible for the site's functionality, design, and overall aesthetic. They are also in charge of the site's technical aspects, performance, and capacity (meaning speed and how much traffic the site can handle), which directly impacts user experience.
Data Scientist
In today's business world, data is king. And organizations and businesses are collecting more and more data every single day. That's why it's important to have experts skilled in collecting and understanding this information.
Enter data scientists.
These are professionals who gather and analyze large sets of structured and unstructured data, combining skills in math, science, and business to analyze and interpret data.
Data scientists' analytical skills help organizations understand market trends, consumer behaviors, and other relevant insights for developing their business strategy and helping organizations make objective, informed decisions.
To collect and interpret large amounts of data, data scientists count with the help of advanced analytics technologies, such as machine learning, artificial intelligence (AI), and predictive modeling.
Product Manager
Product management is the role and function within an organization that is responsible for a product's overall success. They define the direction of the product through research, vision-setting, and alignment, working in groups inside and outside of the company.
These professionals leverage skills in communications, management, marketing, and software development to oversee their team as they work to develop and improve products. The role ranges many activities from strategic thinking to tactical skills and requires vital cross-functional leadership — most notably between engineering, marketing, sales, and support teams.
"The best PMs I have worked with have mastered the core competencies, have a high EQ, and work for the right company for them", says Julia Austin, senior lecturer at Harvard Business School. "Developing core competencies will be an ongoing activity throughout your career, and leveraging EQ will ensure a more positive experience. But where you work, how you work, and who you work with will ultimately determine your long-term success".
Information Security Engineer
Also known as an information security analysts, information security engineers are responsible for the security of an organization's computer systems and networks, setting in place security measures that safeguard sensitive data in the event of a malware or cyber-attack. They create software to help protect technology systems and electronically stored information.
These professionals typically have educational backgrounds in cybersecurity, IT, or software engineering. They ensure that enterprise IT initiatives remain safe from potential threats inside and outside the organization. They're also tasked with keeping on top of industry compliance regulations and future security trends.
Because of these reasons, a defining characteristic of people in this tech role is their adaptability to change – after all, a security breach can occur at any time. Other desired skills for this job are the understanding of networks and computer systems, good communication, and critical-thinking skills.
Machine Learning and AI Engineers
As the world shifts its focus towards the emerging field of automation with minimal human intervention, roles in artificial intelligence (AI) and machine learning are in extremely high demand, being among the best tech jobs for the future.
AI engineers spend their time using big data to set smart tech and are tasked with deploying AI-powered applications. In the words of Indeed "they are responsible for developing, programming and training the complex networks of algorithms that make up AI so that they can function like a human brain. This role requires combined expertise in software development, programming, data science, and data engineering."
Some important skills in AI include creating and managing the AI development process, conducting statistical analysis, and automating data infrastructure.
Machine learning engineers, on the other hand, design automated software to create predictive models and work alongside data scientists to enter data into the models they've discovered. It is actually a branch of artificial intelligence based on the idea that systems can learn from data, identify patterns, and make decisions with little to no human inputs. In short, they create programs that will enable machines to take actions without being specifically directed to perform those tasks.
An AI engineer builds AI models using machine learning algorithms and deep learning neural networks to draw business insights. This smart data can be used to make business decisions that affect the entire organization
Cloud Engineer
Everything is in the cloud. And with the work-from-home global situation still ongoing, a significant number of organizations are moving their business processes to cloud storage.
That is why cloud engineering is among the list of technology careers that could help you hit the 6 figures-income dream. Cloud engineers work to build and maintain cloud systems and software to keep businesses and systems running. They provide security for cloud-based platforms and applications. Broadly speaking, a cloud engineer can be described as an IT professional who is responsible for technological maintenance and improvements within the cloud.
To pursue this job, it is essential to have experience using cloud computing software and be well-versed in cloud architecture, scripting, Python, Linux, JavaScript, and Azure.
DevOps Engineer
DevOps (development and operations) engineers use coding and engineering knowledge to develop and deploy systems within a company, serving as the bridge between coding and engineering. They are the combination of practices and tools designed to increase an organization's ability to deliver applications and services faster than traditional software development processes.
Such professionals oversee everything from coding to scripting and process development. They'll evaluate a business' technology and identify ways to improve its systems, collaborating across teams and departments, improving various IT systems to help increase a company's productivity.
The role not only requires evident hard skills such as coding and automation, but also demands soft skills like flexibility, self-motivation, empathy, and strong communication skills (the role demands these professionals to speak regularly with internal management teams and staying familiar with the goals, roadmap, and process bottlenecks).
Information Technology (IT) Manager
Last, but certainly not least, our increasingly digital workspace requires the presence of an IT manager. They are charged with ensuring IT-related processes are set in place within organizations. These are leaders, responsible for projecting both short and long-term visions for the company's technology needs.
Most IT managers are fully trained and overall tech-savvy, being capable of handling any IT task, while also being in charge of recruiting and training new IT hires.
Some responsibilities include installing and maintenance of computer software and hardware, searching for new technologies, and upgrade opportunities while establishing department goals, team workflows, and digital solutions that help the company prosper. This would mean regular testing to ensure that all components are functioning at maximum efficiency.
Time To Jump Into The Tech World?
Don't be fooled into thinking IT jobs are all about mind-numbing daily operations. Working in tech involves dynamic careers that improve people's lives and create valuable solutions to real-world issues in virtually every industry. Technology now is more important than ever before, and the trend is going strong for the foreseeable future.
There is also a huge variety of work available–with appealing salaries, one might add! That's because tech jobs are integral in nearly every industry worldwide.
This includes the health sector, agriculture, transportation, retail, journalism, entertainment, real estate, hospitality, and manufacturing.
You think of an industry and there are sure to be hundreds, possibly thousands, of tech jobs available. This allows people with tech knowledge to work in nearly any field, any industry, and any place…. in the world.
Looking for a job in tech? TieTalent can help you. Find out more here.
Feel like leveling up your career?
The tech season is officially open! And there are currently a variety of in-demand roles available for newcomers looking for work flexibility, dynamic responsibilities, and, of course, higher-paying positions.
If you're considering a job in tech, chances are you've caught yourself wondering which role you could pursue among the variety of new IT careers popping up everyday like wildflowers.
Oh yes, don't be fooled! The tech industry is blooming faster than daisies in spring… and it's beautiful!
Keep on reading to find out what are the top 10 jobs in tech for 2021 to help you figure out your place within this up-and-coming industry.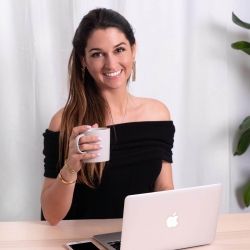 Ana Palombini
Conversion Content Writer at AP Copywriting
Ana is the voice (erm, hands?) behind Ana Palombini Copywriting, where she provides content marketing for small businesses, entrepreneurs, and marketing agencies. Once graduated from a university where suits were mandatory, she is now a firm believer that work + sweatpants are 'the way' (cue to The Mandalorian theme song). When she is not furiously typing 'till her fingers are numb, you'll find her watching Friends for the millionth time or having late-night sushi from her couch (or both). Say hi on LinkedIn or check out her website.
Back to Blog