Back to Blog
7 Digital Marketing Books To Read for a Successful Career Change
Are you currently planning a career switch into a digital marketing role (but lack the needed experience? If so, then it's time that you educate yourself as quickly as possible.)
If you're currently looking into enhancing your digital marketing knowledge and skills, you might have found yourself at one point overwhelmed by the sheer number of digital marketing books readily available out there.
Seemingly everyone has a digital marketing book to recommend. But with a limited amount of hours available in your day, you might be wanting to make the most out of your time and effort.
So if you've ever caught yourself wondering about which are the best existing digital marketing books for a career change, this post is perfect for you.
After careful consideration and an extensive online analysis, we've come up with the ultimate list of digital marketing books you should read today to set yourself up for success in the future.
Without further ado, let's get right into it.
Top Digital Marketing Books to Advance Your Career
1. They Ask, You Answer by Marcus Sheridan
Find it on Amazon
Quality content is the key to success. If you want to learn more about how content marketing can elevate your business, this is the book you've been searching for. They Ask You Answer is a straightforward guide to fixing your current digital marketing strategy by making use of the simple, yet overlooked, power of answering your customers' most impending questions -- simple as that.
This book further serves to remind you about how fast content marketing evolves everyday, with it no longer being about keyword-stuffing or link-building (rather, it's about making use of  strategic content marketing tactics that can quickly get your brand discovered online, even if you're just starting out).
Learn the most efficient ways to build trust with your customers via content and video.
How to boost your web presence to attract and acquire qualified leads.
Understand what works and what tanks in content marketing (featuring real-world scenarios and outcomes from companies that have embraced these principles).
Why you need to think of your business as a media company, instead of relying on more traditional (and ineffective) ways of advertising and marketing.
Approx. 352 pages.
"Honest & transparent content is the best sales tool...in the world. Period."
2. The New Rules of Marketing and PR by David Meerman Scott
Find it on Amazon
The New Rules of Marketing and PR gives you a proven, step-by-step plan to leverage the power of technology to get your message across to the right people at the right time.
In this modern digital marketing book, you will learn about the most recent approaches and trends for highly-effective PR, digital marketing, and effective customer relations.
Now in its 7th edition, The New Rules of Marketing and PR gives you all the digital marketing tools that you'll need to directly speak to your customers and create online buzz around your brand.
Apply the current rules of marketing and stay ahead of your competitors.
Learn how digital marketing can help you generate instant attention and get your customers excited to hear from you on a regular basis.
Make the most out of the up-and-coming web-based communication technologies.
Learn from others by reading compelling case studies and real-world examples.
Understand how to take advantage of platforms such as Instagram, Facebook, etc.
Approx 448 pages.
"When people come to you online, they are not looking for TV commercials. They are looking for information to help them make a decision."
3. The 1-Page Marketing Plan by Allan Dib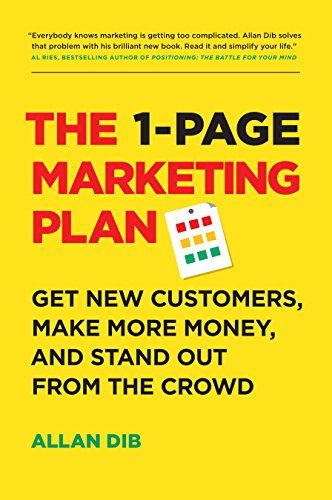 Find it on Amazon
This ever-popular digital marketing book gives an amusing warning not to buy it unless you actually have an aversion to making money.
You'll learn how to start and grow a successful business, what matters in digital marketing (and what to overlook), and understand how to build a strategic plan for faster business growth. But don't be fooled, This book is recommended regardless if you're just starting out or are an experienced marketer.
The author, Allan Dib, will take your hand and guide you into learning for yourself how to create a digital marketing plan simply and quickly. As the name says, this is quite literally a single-page, divided up into nine squares, which allows you to seamlessly map out your own strategic digital marketing plan and go from zero to hero.
Learn how to acquire new customers (and how to make more profit from your already existing ones).
Understand why there is not a 'one-size-fits-all' strategy in marketing (and the actual techniques that work for small and medium-sized businesses).
Turn the tables and have your prospects excited to give you their money by learning the secrets to closing a sale without being pushy or arrogant.
Get your very own step-by-step process to create your one-pager marketing plan.
Small budget? No problem! Learn how to get amazing results on a small budget using the little known secrets of direct response marketing.
Approx. 240 pages
"One of the ways I recommend doing market research is by analyzing what your target market is actually buying or looking for."
4. Marketing 4.0: Moving from Traditional to Digital by Hermawan Kartajaya, Philip Kotler, and Iwan Setiawan
Find it on Amazon
Marketing 4.0: Moving from Traditional to Digital is the book you've been searching for but had no idea existed. Considered "the digital marketing handbook for the next-generation", this book will help you navigate the increasingly connected digital world, with its ever-changing consumer landscape, to reach more customers in a more effective manner.
It's a fact that customers these days have shorter attention spans, being constantly overwhelmed by alternatives throughout the entire buyer journey. This means that competition is stronger than ever before, so you need to get your customers' attention fast.
This powerful digital marketing book examines the marketplace's shifting power dynamics and the paradoxes of online connectivity. Equipped with this book, you'll know how to best take advantage of shifting consumer's needs to reach and engage more customers than ever before.
Discover the new rules of marketing.
Stand out from the online crowd by creating WOW moments.
Understand how to build a loyal and vocal customer base.
Approx. 208 pages
"A connected world, the concept of marketing mix has evolved to accommodate more customer participation. Marketing mix (the four P's) should be redefined as the four C's (co-creation, currency, communal activation, and conversation)."
5. Marketing Made Simple: A Step-by-Step StoryBrand Guide for Any Business (Made Simple Series) by Donald Miller
Find it on Amazon
Donald Miller is known for being a New York Times bestselling author. Now, he indulges us once again by sharing his digital marketing wisdom with the world. This book teaches you how to effectively create and implement a sales funnel that will increase traffic and drive conversions (in other words: how to take your business to the next level with maximum ROI).
This 5-part digital marketing "checklist" is the ultimate resource for any marketing professional or business owner that wants to cultivate a creative sales funnel based on the principles of building a StoryBrand.
Learn about the three stages of customer relationships.
Understand the best way to both create and implement your marketing plan.
Implement a powerful sales funnel that helps attract the right customers to your business.
Leverage the power of storytelling to win over your customers.
Discover the key to wireframing a website that commands attention and generates conversions.
Approx 212 pages
"Customers are not interested in your story. They are, rather, interested in being invited into a story that has them surviving and winning in the end."
6. This Is Marketing: You Can't Be Seen Until You Learn to See by Seth Godin
Find it on Amazon
This New York Times bestseller presents a life-changing approach to digital marketing, sales, and advertising as a whole.
The author, Seth Godin, offers the core of his marketing wisdom in a concise, evergreen package. This is Marketing demonstrates how you can produce results that make you proud, be it if you're coming from a small startup or already part of a big corporation. This book brings lessons that every marketer will benefit from.
Great marketers understand that the new era of marketing focuses primarily on loving your customers' problems. The book teaches you tactics on empathy and connecting with clients on a deeper level, rather than depending on attention-grabbing ads or spammy (archaic) techniques.
Learn how to seamlessly build rapport with your intended audience.
How you can achieve your business goals by helping your customers.
Why the old approaches to advertising and branding no longer work.
Understand the power of storytelling and how modern digital marketing, at its essence, is all about stories.
Approx. 288 pages
"Persistent, consistent, and frequent stories, delivered to an aligned audience, will earn attention, trust, and action."
7. Digital Marketing Strategy: An Integrated Approach to Online Marketing, by Simons Kingsnorth
Find it on Amazon
Digital marketing without a content strategy is like throwing something against the wall and hoping it sticks. If you want maximum ROI from your digital marketing efforts, this book is for you. It will ensure that your digital marketing strategy is aligned with the greater business objectives and capabilities, thus helping you get the most out of your campaigns.
It'll further provide you with an accessible, step-by-step framework to the planning, integration and measurement of each digital platform and technique, all tailored to achieve overarching business objectives. This book comes with a downloadable guide ranging from SEO to paid-search, email, lead-generation, and more,
Understand marketing automation and personalization for effective communication.
How to leverage the power of new technologies such as AI for dynamic campaigns.
Learn essential information about data protection and privacy strategies.
Approx. 344 pages
"In the 21st century, consumers expect sites that are available on any device with cross-device functionality and personalized experiences and they expect to be able to directly contact businesses and get a response within minutes."
Ready for a Digital Marketing Career?
The rapid evolution of digital technology has reshaped the business world, especially digital marketing. Today's businesses require advanced digital competences to stay relevant, successful and profitable.
There are many good books on digital marketing aimed specifically at beginners.
Changing careers isn't easy but with a little help from these book, you can definitely make it. Each book is written by an expert who has years of experience working in the digital marketing industry. And reading is one of the strongest ways to develop yourself in the field of digital marketing.
So yes, the digital marketing industry is one of the fastest growing industries in the world, with new marketing jobs springing up every day. Now is a great time to begin making that career change if you haven't already.
Ready to advance your digital marketing career? TieTalent will help you find your next job based on what you want in your next opportunity – no cover letter and 100% free (we promise). Sign up today.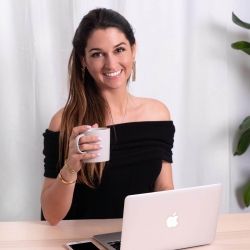 Ana Palombini
Conversion Content Writer at AP Copywriting
Ana Palombini is the voice behind AP Copywriting, where she provides content marketing for SaaS, entrepreneurs, and marketing agencies. When she is not typing 'till her fingers are numb, you'll find Ana watching Friends for the millionth time or having late-night sushi from her couch (or both). Say hi on LinkedIn or check out her website.
Back to Blog