Back to Blog
7 Best Digital Marketing Tools Trusted by Experts in 2022
If you're in marketing, I can bet that at least once in your life you've wondered about the best ways to surpass your competition. For this, it's important that you have both a smart digital marketing strategy and access to (at least a few) of the best digital marketing tools available.
There are thousands upon thousands of digital marketing tools to help you launch and test successful campaigns quickly and effectively.
But with so many digital marketing tools available out there, how do you effectively know where to invest your money without blowing away your entire yearly budget?
Today, we'll go over seven of the most popular digital marketing tools to optimize your marketing campaigns. Perhaps you're familiar with a few of these helpful tools; others might surprise you.
These marketing tools can help you keep track of your analytics, schedule posts for your social media, and design creative visuals with no prior design skills. Being fully equipped with these allows you to perform more insightful keyword research so that you improve your search results (and conversion rate, of course).
Need a helping hand streamlining your digital marketing efforts?
Let's discover some handy software that will help!
The 7 Best Digital Marketing Tools You Should Be Using
The master of all digital marketing tools. HubSpot is an all-in-one solution with several features that work to help you grow your business.
To start, you'll find there are many tools available for free such as web forms, pop-ups, and live chat software to capture more leads, among many others. Through Hubspot, you can also send email newsletters, and analyze all your data, such as user behavior, time spent on a page, etc. It's the perfect tool to execute a seamless inbound marketing strategy (and the one we personally prefer at TieTalent).
When you upgrade to one of their paid plans, that's when things get really interesting. You can use more advanced marketing automation features to make your daily tasks easier and save time.
Hubspot allows you to:
Grow your traffic and convert leads
Determine the ROI of your inbound marketing campaigns
Provided sales tools which shorten the sale cycles and increase close rates
Hubspot Pricing: Free to $3,200/month for enterprises, depending on your plan
Ahrefs is a free and paid SEO tool that helps you boost your website traffic by making the most out of your search engines' potential. Ahrefs boasts data for nothing less than 150 million keywords in the U.S. alone.
Ahrefs is a great SEO analytics tool for digital marketers to perform insightful competitive analyses that go way beyond simple search volume analytics.
This advanced digital marketing tool allows you to research:
who is linking to (and from) your competitors
what your competitors' most popular pages are
what blog posts are ranking for specific keywords
You can also track the position of your priority keywords to optimize your website for more traffic.
This digital marketing tool might not be the most user-friendly, but it's by far one of the most comprehensive SEO digital marketing tools. Without a doubt, Ahrefs is easily the most insightful analytics tool available for content marketing and SEO.
Ahrefs Pricing: Tiered pricing, ranging from $99 to $399
3. PointerPro (formerly Survey Anyplace)
If you're looking for a powerful lead generation tool to get more email signups, PointerPro is a fantastic digital marketing tool that both your marketing and sales team will love.
That's because it provides respondents with a personalized PDF report upon finishing online assessments (created by your teams to capture user data). PointerPro is a versatile digital marketing tool that works well with any existing marketing CRM, so you can easily transfer leads to your CRM or email marketing tool to build your email campaigns.
PointerPro Pricing: Free trial available | Pricing starts from $33 per month
Trello is a CRM (content management tool) that marketing teams use to both brainstorm and strategize content. If you're in a startup, you'll be happy to know that a big reason why Trello is so beloved is that it's free for small businesses. It's a great solution if you don't have a big marketing budget yet.
This popular digital marketing tool also provides a visual way to brainstorm and schedule content online (even if your team is remote), facilitating collaboration while providing clarity on projects in the pipeline.
In fact, Trello is perfect for managing remote teams because you can assign each employee to a card . This way, you can always know who is in charge of writing, editing, or even adding a CTA to a blog article, for example.
Trello Pricing: Paid plans range from free to $20.83 per month for enterprise
This is one of those must-have digital marketing tools that will help you communicate faster with your clients. MobileMonkey is a digital marketing chat tool that gives your existing and new clients a fuss-free way to chat with you, and vice versa (with automatic responses available).
This is especially important because 75% of customers say they prefer chatting or texting with a business rather than by email or phone. This popular digital marketing tool connects to all your clients' favorite channels, such as:
Instagram DMs
SMS text messaging
Live chat
Facebook Messenger
As you may know, social media plays a big part in any integrated marketing strategy. Platforms such as Facebook, Instagram, and LinkedIn are great places for marketers to connect with their audiences and generate a buzz around their brand.
Mobile Monkey Pricing: Tiered pricing, ranging from $30 to $55
Is your marketing team growing fast despite having any SOPs (Standard Operating Procedure) in place? Worry not, Scribe will help you maintain your productivity by creating entire process documentations simultaneously.
It's a free Chrome extension and it works by recording your computer screen, and documenting your workflow while you're at it. Upon completion, Scribe will then create a helpful step-by-step guide breakdown of your entire process (complete with screenshots and instructions).
Scribe is a smart tool that highlights exactly where you click and how to get from point A to point B. You can also easily share your guides via a link or embedded in a knowledge base or CMS.
This tool will save you time and manual work by educating and sharing knowledge among teammates. Scribe is a perfect digital marketing tool to share instructions with customers or to educate a coworker on using new software.
Scribe Pricing: Starts free and goes up to $29/month
Canva is the perfect digital marketing tool for marketers who don't have a lot of graphic design experience. It's a straightforward drag-and-drop design platform that allows users to easily create images using royalty-free pictures, icons, shapes, and a variety of fonts from the Canva catalog.
This digital marketing tool offers an aesthetically-pleasing, simple way to design your own logos, presentations, images, or graphs based on your team's needs.
Additionally, Canva cuts out the need for an experienced designer and enables you to create the exact vision you have in mind using their vast image collection.
*Canva Pricing: Plans start free, $12.95/month for teams, or custom pricing for enterprises
Ready to start using smart digital marketing tools?
Using the right digital marketing tools can make a huge difference in how fast and efficiently your business grows. We hope that this list of our favorite digital marketing software inspires and helps you in your digital marketing efforts.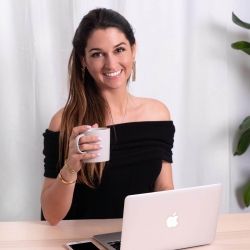 Ana Palombini
Conversion Content Writer at AP Copywriting
Ana Palombini is the voice behind AP Copywriting, where she provides content marketing for SaaS, entrepreneurs, and marketing agencies. When she is not typing 'till her fingers are numb, you'll find Ana watching Friends for the millionth time or having late-night sushi from her couch (or both). Say hi on LinkedIn or check out her website.
Back to Blog