Back to Blog
7 Hot Trends in the Software Development Industry in 2021
2020 was a significant year for the software development industry with tangible breakthroughs across several areas. If anything, COVID-19 sped up the digital transformation significantly. As a result, growth will be greater than ever in the years to come.
Indeed, software development is constantly evolving, and 2021 will see many innovations and ways to continue the use of technology to drive extraordinary results. This will be especially true as more companies achieve digital acceleration and start to think differently about how to use technology to meet their financial, societal, and customer care goals.
Every tech professional knows the importance of staying on top of the latest industry trends. And to stay current, you not only need to consider the present state of technology, but also analyze current trends so you stay ahead and keep up with our ever-evolving world.
The IT Sector and the Global Pandemic
Not all is bad when we consider the impact of COVID-19 on our lives. Sure, social isolation and the seemingly endless lockdown and travel restrictions have affected us in different ways. But there is also a way to see the situation with a "glass half full" perception – especially when we consider the work-related transformations.
The global pandemic was a detrimental testing point towards businesses who dared to innovate and adapt against those who resisted more innovative procedures. When never-before-seen regulations that suddenly imposed social distancing and lockdown hit both small and large enterprises, companies were forced to quickly reorganize their working processes and develop new approaches to strive (or ultimately crumble into oblivion).
What once was an uncertainty is now clearer than the water in the Maldives: enterprises that want to strive in the post-pandemic world need to adopt tech solutions that benefit the company, its employees, and ultimately its clients.
Digital solutions will determine the creation of sustainable and adaptable businesses in the years ahead of us. And software developers and IT specialists will play a fundamental role in building the post-pandemic world.
With that in mind, here are the 7 biggest trends in the software development industry in 2021.
1. Cloud-Based Solutions Are Here To Stay
To facilitate remote work and establish effective team collaboration, companies had to support their employees by implementing appropriate infrastructure that created a sustainable work environment in their home offices. As a result, the demand for cloud services and tools has grown like never before.
According to Statista, 74% of businesses worldwide are turning to cloud providers for data storage and will continue investing in cloud technologies throughout 2021.
Cloud-based solutions such as SaaS, IaaS, and PaaS are in high demand as they are easier to adopt and help cut down expenses, being especially necessary in post-crisis times. Gartner states that SaaS solutions – which make up the largest part of the public cloud market – are predicted to generate $120 billion in 2021. That's $15 billion more than the previous year.
There will be a high demand with a huge shortage of cloud-savvy engineers in 2021 and onwards. So if you are an IT engineer, the time is now to jump into any MOOC (Massive Online Open Course) to earn your Cloud certification. And the good news is that many of them are offering free months during Covid. Recently the biggest public Cloud provider, Amazon, declared that they will give free Cloud Computing training to 29 million people between 2021–2025.
What are you waiting for to get cloud-certified?
2. Low Code/No Code Development
Software engineering is moving towards simplification with a new approach to creating new apps known as low-code development (LCNC). Such low-code platforms enable practically anyone to develop software without traditional coding.
This means that basically anyone can try to build feature-rich applications – even if they have minimum technical knowledge or skills.
The reason for this is because the need for software engineers has outpaced their availability, making LCNC programming a must for businesses that require the ability to move forward easily with new initiatives. So, as the demand for building applications in a fast and simpler way is growing, more and more low-code platforms appear.
While many developers remain skeptical about the low-code approach, industry experts further state that this can actually free up developers' time so that they could work on higher-level projects. This will also lower the barrier for entry into software development, allowing people with limited or no development skills to implement their ideas into digital solutions.
3. The Rise of AI
Artificial intelligence (AI) has become one of the most popular technologies in recent years, and there have been many fantastic breakthroughs in this area.
In 2021, the integration of business processes with AI will be a huge competitive differentiator. There is no denying the impact of AI in software development services. AI can expedite an outcome, enable more informed decision-making, and deliver more relevant and meaningful customer experiences.
Fundamentally, AI is aimed at helping teams simplify their development processes and speed up responses. All of this while minimizing human errors and instantly automating routine processes.
In the coming year, the ability to add cutting-edge AI capabilities to projects and business processes will be critical for organizations.
4. UX Preferences
Gone are the days of over-complicated interfaces that grandma couldn't grasp. Software development in today's era isn't just about functionality, it's also about (easy) usability.
User-experience (UX) software design is now a critical factor for redesigning customer-facing products and services in today's all-digital environment.
Indeed, UX has become a major business driver in recent years and will continue to determine how companies design products and services. Therefore, in 2021 and beyond, engineers will increasingly be required to focus on improving UX at every level of interaction.
5. Mobile-Responsive Design
Given that today even 2-year-olds are adept at using mobile phones, it's safe to say that smartphones aren't going anywhere.
With that in mind, mobile-responsive design has been on the rise and will remain that way for years to come.
We all use our smartphones for shopping, connecting with friends, and browsing the internet as a whole. All of this is highly dependent on intuitive mobile-friendly design – be it via an app or website. This could further mean a bigger emphasis on mobile development and a decrease in desktop optimization.
6. eCommerce Ain't Going Anywhere
2020 was a tough year that took many by surprise. Still, while most businesses were facing difficult economic times, the eCommerce market was at its peak during the pandemic. This led many established and new companies to suddenly have to shift to online retail.
Numerous mobile eCommerce applications help improve customer experience, automate business processes, and provide safe delivery and payment options. That's why it's safe to predict a growing demand for eCommerce software solutions in 2021.
It's no wonder that the biggest eCommerce platform in the world, Amazon, made Jeff Bezos $386 billion, with net profits soaring up 84% from its previous year.
7. Outsourcing Specialists
An ongoing challenge for companies across industries is to find talented IT specialists to develop high-quality custom software projects within budget. Because of that, many companies are opting for outsourced or remote talents.
This means that the demand for software development outsourcing is experiencing significant growth in 2021 and beyond. According to Business Wire, in 2020, the global market for IT outsourcing was estimated at $342.9 billion and is projected to reach $410.2 billion by 2027.
MarketWatch further states that large businesses have increased the budget they spend on IT outsourcing from 6.3% in 2018 to 8.7% in 2019. Medium-sized companies have also raised this budget from 4.7% to 6.5%.
The Software Development Industry is On Fire
COVID-19 has forced businesses to face sudden unexpected challenges. This forced companies to quickly move towards a primarily digital world, where digital solutions largely determine the way we work and live.
Software development services have never been more important to businesses than they are now. This is especially true with more organizations relying on the expertise of developers to help in enterprise innovation by delivering custom software development services and solutions that improve operational performance and customer experiences.
Today, we witness the acceleration of IT priorities and technology solutions across enterprises. Awareness of the latest software development forecasts for the coming year can help you with long-term business planning.
Are you in the software development industry? TieTalent can connect you with your dream job or ideal employee in tech. Find out how.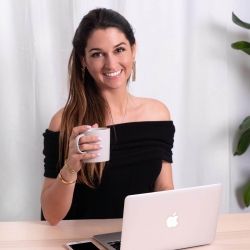 Ana Palombini
Conversion Content Writer at AP Copywriting
Ana is the voice (erm, hands?) behind Ana Palombini Copywriting, where she provides content marketing for small businesses, entrepreneurs, and marketing agencies. Once graduated from a university where suits were mandatory, she is now a firm believer that work + sweatpants are 'the way' (cue to The Mandalorian theme song). When she is not furiously typing 'till her fingers are numb, you'll find her watching Friends for the millionth time or having late-night sushi from her couch (or both). Say hi on LinkedIn or check out her website.
Back to Blog